Walking Tour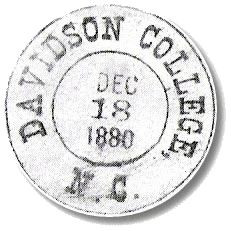 A Davidson Historical District Walking Tour
by Rupert T. Barber, Jr., for the Davidson Historical Society
The tour may begin at any point and takes approximately 1 hour. In the commercial district, the Davidson Historical Society has placed stone markers indicating when the current buildings were built and their early occupants. The stones may also be used as stops on the tour. The tour encapsulates the town's development: collegiate, commercial, industrial, and residential.
The town began with the founding of Davidson College in 1837 and was called Davidson College, North Carolina, until 1891, when it dropped "College" from its name. (Click Here for a Printer-Friendly Version)
Can you locate these details from Downtown Davidson?
The Davidson Historical Society has compiled these photos of architectural features of houses, public buildings and stores to see how many you can find. Print it out and take it with you on your walking tour - Click here.
When you think you have all the answers, click here to check!